15:16
Congresswoman Alexandria Ocasio-Cortez said lawmakers should not be allowed to own individual stock, as senator Richard Burr faces calls to resign over his stock activity.
Burr sold up to $1.7 million in stocks last month as he was receiving briefings on coronavirus, raising concerns that he attempted to profit off the pandemic.
Burr released a statement this morning denying wrongdoing and asking the Senate ethics committee to investigate the matter.
14:56
McConnell sets up stimulus package vote for Monday
Senate majority leader Mitch McConnell is moving quickly on the third coronavirus bill, which is aimed at bolstering the economy through the pandemic.
McConnell said he wants an "agreement in principle" on the package by tonight so that senators can vote on the bill Monday.
That timeline would require senators and their staffers to work through the entire weekend to have the bill ready by Monday.
McConnell said the $1 trillion package Senate Republicans released yesterday — which outlines direct payments to American families and $200 billion to airlines and other distressed industries, among other things — would be the starting point for negotiations.
However, Senate Democrats have already signaled they want many changes made to the bill, so a lot of negotiating will need to take place between now and Monday to set up a vote.
14:41
Burr asks Senate Ethics Committee to investigate stock sale
Senator Richard Burr has denied wrongdoing in his massive stock sales last month, which occured as he received briefings on coronavirus.
In a new statement, the North Carolina Republican called on the Senate ethics committee to review the trades, but Burr insisted he relied solely on public reports to inform his stock activity.

14:36
Joe Biden called on companies to commit to not buying back their own stock as the economy suffers because of the coronavirus pandemic.
Trump surpisingly said yesterday that he would be "okay" with requiring companies who receive federal bailout money to commit to not buying back their own stock.
For reference, the tax cuts the president signed into law in 2017 sparked a record-setting round of corporate buybacks, which were widely criticized by Democratic lawmakers.
14:18
Treasury secretary Steven Mnuchin previewed the likely tax filing deadline extension last week, after testifying on Capitol Hill.
"For small and medium sized businesses, for hardworking individuals, we are going to recommend to the president that we allow the delay and that they don't have to pay an interest or penalty on that," Mnuchin told reporters last week. "That will have the impact of putting over $200 billion back into the economy, and that will create a very big stimulus."
Interestingly, Mnuchin's tweet announcing the extension said it would apply to "all taxpayers and businesses," even though he signaled last week some of the wealthiest Americans would be excluded.
14:11
Tax filing deadline pushed back three months due to coronavirus
Treasury secretary Steven Mnuchin announced the tax filing deadline would be pushed back three months, to July 15, amid the coronavirus pandemic.
Mnuchin said Trump had directed the move, which will allow individuals and businesses additional time to file and pay the government without suffering a penalty.
14:07
NBC News announced one of their longtime employees had died after testing positive for coronavirus.
Larry Edgeworth had spent 25 years working as an audio technician at the network's 30 Rockefeller Plaza headquarters in New York. His wife said he suffered from other health issues.
"Many of you were fortunate enough to work with Larry over the years, so you know that he was the guy you wanted by your side no matter where you were," NBC News Chairman Andy Lack said in an email to staff this morning.
A number of Edgeworth's NBC colleagues shared their memories of him after his passing:
13:59
Kevin Hassett, the White House's former top economist, said he is returning to the Trump administration to serve as an adivser on the economic fallout from the coronavirus pandemic.
Hassett spent two years serving as chairman of the Council of Economic Advisers and left the White House last summer.
Hassett has recently been warning of severe economic consequences tied to the coronavirus pandemic, predicting the US will lose 1 million jobs this month alone.
"You're looking at one of the biggest negative job numbers we've ever seen," Hassett told CNN on Monday.
13:44
The Trump administration is expected to announce travel restrictions at the US-Mexico border today, as officials from both countries work to mitigate the spread of coronavirus.
Secretary of state Mike Pompeo said yesterday he was working with his Mexican counterpart on limiting cross-border traffic:
According to Reuters, the restrictions are expected to be similar to those that Trump announced on Wednesday for the US-Canadian border, where all non-essential travel has been banned.
13:25
Dr Anthony Fauci said Americans should prepare for having to stay home for several weeks in order to mitigate the spread of coronavirus.
Fauci, the director of the National Institute of Allergy and Infectious Diseases, told NBC's Savannah Guthrie that the trajectory of outbreaks in other areas indicated Americans would need to continue their social distancing beyond the month of March.
"It's at least going to be several weeks," Fauci said. "I cannot see that all of a sudden, next week or two weeks from now, it's going to be over. I don't think there's a chance of that. I think it's going to be several weeks."
13:18
Burr faces calls to resign over stock scandal
Richard Burr, the Republican chairman of the Senate intelligence committee, is facing calls for his resignation after ProPublica reported he sold up to $1.7 million in stocks last month while receiving briefings on coronavirus.
In the weeks since, the market has suffered severe losses that have impacted many Americans' retirement savings.
NPR also obtained a recording of Burr privately warning that coronavirus was "aggressive in its transmission" and could create a crisis similar to that of the 1918 flu pandemic.
The reports of Burr's actions triggered immediate calls for his resignation from both sides of the aisle.
Progressive congresswoman Alexandria Ocasio-Cortez accused Burr of failing in his duty to the public:
Even Fox News host Tucker Carlson said Burr had to resign if he could not come up with an explanation for his actions:
"There is no greater moral crime than betraying your country in a time of crisis, and that appears to be what happened," Carlson said.
12:49
De Blasio says Trump 'should get the hell out of the way' on coronavirus response
Good morning, live blog readers!
Donald Trump is once again coming under harsh criticism for his response to the coronavirus pandemic, with New York Mayor Bill de Blasio telling MSNBC this morning that the federal government has been "absent" as the city grapples with thousands of cases.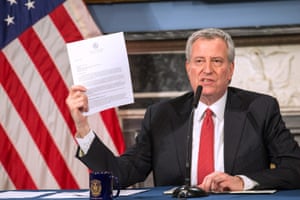 "He should get the hell out of the way and let the military do its job," said de Blasio, who simultaneously praised the work of New York Governor Andrew Cuomo.
The mayor warned that if Trump does not immediately deploy the military and speed up production of medical supplies, the consequences could be tragic.
"A lot of people are going to die who don't have to die," de Blasio said. "If the president doesn't act within days to maximize production, to get surgical masks, if he doesn't mobilize the US military, people will die."
Updated