10:49
More than one of the Democratic challengers had difficult campaigning days on Sunday. Minnesota's Amy Klobuchar ended up cancelling a rally in her home state after protesters took over the stage over the case of a black teen sentenced to life in prison while Klobuchar was the county's top prosecutor.
Klobuchar was scheduled to speak at St. Louis Park High School in suburban Minneapolis. But dozens of protesters entered the gymnasium, raised signs and chanted "black lives matter" and "Myon," a reference to Myon Burrell, who was convicted of the murder of 11-year-old Tyesha Edwards.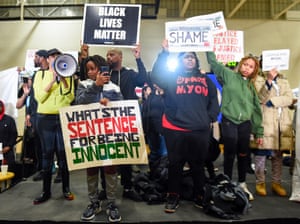 Burrell was sent to prison for life following a police investigation some say was flawed. Klobuchar has said if there is new information in the case then it should be considered – a response that some activists have said doesn't go far enough.
Klobuchar has struggled to win support from black voters, a major problem for her campaign, but she has rejected suggestions she drop out of the race, saying she plans to compete at least through the upcoming Super Tuesday contests.
10:26
Well then, good morning. It's an absolutely crucial day of campaigning ahead of Super Tuesday – but it is a campaign that has changed shape dramatically after the events of the weekend.
Firstly Joe Biden's margin of victory in South Carolina re-energised his bid for the nomination – and also showed that Bernie Sanders had failed to gain ground in a state where he was crushed by Hillary Clinton in the 2016 primary.
Tom Steyer may have been expected to drop out after a disappointing showing on Saturday – and he did – but it was former South Bend mayor Pete Buttigieg's withdrawal last night that radically alters the situation.
Following his narrow win in Iowa, Buttigieg had already amassed more pledged delegates than Elizabeth Warren, Amy Klobuchar, Mike Bloomberg and Tulsi Gabbard combined – yet still couldn't see a way through to winning the nomination.
It remains to be seen who Mayor Pete will endorse now – and whether we've seen the last of him for this election cycle. Could he end up being someone's pick for VP?
Today Sanders will be in Utah and Minnesota, Biden is due in Texas, and Warren will be campaigning in California. Here's our guide to Super Tuesday if you want a refresher on what is at stake.
Away from the Democratic race, there's plenty going on in government. Donald Trump is meeting the Colombian president, having lunch with vice-president Mike Pence, and then meeting members of the Coronavirus Task Force. The US has confirmed approximately 60 cases of the severe respiratory illness with two deaths.
The president will later be at a rally in Charlotte, North Carolina. Mike Pence will be putting in an appearance at AIPAC, as will Mike Bloomberg and Joe Biden.
Updated